Dear Valentine,
by Herbalist Wendy Wilson
Yes, it is that time of year when the roses, cards and candy is exchanged to celebrate what has become the national day of love – Valentine's Day. Although flowers are not going to adversely affect your health (unless of course you are allergic to flowers) however, too much sugar is not healthy. Some might speculate that a sugar-free box of chocolates would be healthier. In my opinion, anything with artificial sweetener would not be healthier. A kiss on Valentine's Day is suppose to bring you luck all year. Is there anything else we can do to improve our health for 2013? Let's see.
VALENTINE TRIVIA
In the US Valentine's Day is the fourth biggest holiday and more that 36 million heart-shaped boxes of chocolates are sold for Valentine's Day. Men state that they prefer to receive chocolates over flowers but 22% prefer to get flowers from their sweetheart. However, the majority of men prefer techno gadgets or tools for Valentine's Day.  The exchange of gifts and cards is believed to have started around the 17th century. Most of the Valentine's Day cards during the 17th century would be a poem or riddle. Commercial Valentine's Day cards did not appear until the 1800's. Chocolate was believed to be an aphrodisiac making women more susceptible to a man's advances. It is said that the famous Casanova preferred chocolate to champagne. The ancient Aztecs though chocolate made their men more virile. Americans buy over 180 million Valentine's Day cards and the US Post Office offers special stamps for the occasion. America has over 1,200 chocolate and candy manufacturers selling over $15 million worth of product. Americans eat over 23 pounds of candy annually. Florists will sell over $400 million worth of flowers with $24 million being roses for Valentine's Day. Jewelry stores will sell over $2 million worth of "bling." So, Americans will open their wallets and spend an astounding $277 million on 2.6 billion Valentine's Day cards and millions on candy and jewelry. Who do you suppose receives the most Valentine's Day cards? The answer is teachers followed by elementary school children.
HEART SMART
The biggest symbol of Valentine's Day is a big, red heart. It also has become a culturally recognized logo for heart health. Cheerios and other packaged foods are branding their products as "heart healthy" by displaying a heart on their packaging. I've also seen ads for heart drugs such as beta blockers, diuretics, ACE inhibitors, calcium channel blockers, nitrates and anti-platelets displaying the heart logo. Our brains are geared to brand recognition advertising. Just because a heart symbol is there does not mean it is healthy for your heart. If the heart drug warfarin (rat poison) were a heart-shaped tablet would it make it healthier? No. The AMA and the American Heart Association would like us to believe that we will all suffer from broken hearts if it were not for them. If you think you are at risk of heart disease then stop eating animal foods and go vegetarian. Most heart patients find that a lifestyle change is one of the biggest and positive things they can do for their health.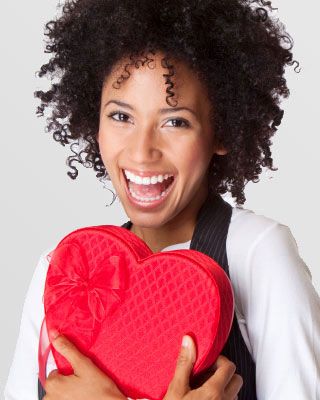 HEART FACTS
The human heart takes a lot of pressure and it is designed to. An adult heart beats 72 times per minute or 100,000 times per day. A healthy heart weighs 11 ounces and is able to pump 2,000 gallons of blood through 60,000 miles of blood vessels every day. That is amazing! Your kitchen faucet would need to be on full-blast for 45 years to equal the amount of blood your heart pumps in your lifetime (equal to 1.5 million barrels). The human heart has energy and its own electrical impulse. Every day your heart is beating, it creates enough energy to drive a truck 20 miles. Where does the body put the blood? About 5% supplies the heart muscle, 20% goes to your brain and nervous system, 22% goes to the kidneys and the rest to the digestive tract and other organs and tissues. The human heart begins to beat at four weeks after conception and won't stop until death. If you do not get adequate and consistent sleep your heart will develop irregular heartbeats called premature ventricular contractions (PVC's). Sleep apnea can negatively affect the heart and cocaine negatively affects the heart's electrical pulse. Who invented and why was the stethoscope invented? In the 1800's a French physician, Rene Laennec, felt it was inappropriate to place his ear on the chest of his large-breasted female patients. If you want to know how hard you heart works to pump your blood, take a tennis ball and squeeze it tightly.
PREVENTABLE
Most heart problems are preventable because the real problem behind ill heart health is lifestyle. Therefore, we all have the power to avoid heart disease, avoid heart drugs for life, avoid surgery, avoid dragging an oxygen tank around, avoid missing out on activities and avoid missing out on life by dying prematurely. So, lifestyle changes to healthier living is part one. Part two is to try to stop worrying about things you can't control and stop smoking and stop avoiding exercise. When you do that, the blood pressure comes down, the weight comes off the blood sugar balances and the cholesterol becomes normal. When you stop doing what has made you ill for years you can forget the prescription pills and cancel the order for the hover-round.  Who wants to just exist through life? You have the power to change everything.
STOCK THE GOOD STUFF
You have an herbal apothecary at your disposal. Look for their Circulation Formula, Heart/BP/Cholesterol Formula, Hawthorn Berries Tincture, Heart Attack Pack, Blood Cleanse, Ginger Root Tincture and Relaxation Formula (lobelia for a diuretic). Call Apothecary Herbs for a free product catalog 866-229-3663, International 704-885-0277 or online http://www.thepowerherbs.com, where your healthcare options just became endless. You will also find immune boosting formulas for the cold and flu season. Their Pandemic Kit is also great for any flu bug. February is the BIG flu month. Save and additional 15% on their Deluxe Cold & Flu package with coupon FEB13 (Exp: 2/28/13)
COMING UP ON HERB TALK LIVE
Herbalist Wendy Wilson on Herb Talk Live
Saturday morning show:
7 am EST on GCN
2/9/13 Dr. Rebecca Carley
Weekday show:
7 pm EST on AVR
2/19/13 Dr. Rebecca Carley
Shortwave show 8 pm EST WWCR 4840
Go to http://www.thepowerherbs.com Herb Talk Live & Radio Archive area for network link access and past shows to download and share. For Android users you can download a FREE app for Herb Talk Live on GCN. See the download link under radio archives at top of page at http://www.thepowerherbs.com.
National community initiative to create the first ever nutritional system to synergize with the practice and living of yoga.
Certified organic coconut water
. Collaborative platform for people inspired by yoga!
Did you know parasites out rank cancer as deadliest killer Worldwide? Autointoxication is potentially a deadly condition that occurs when colon health is ignored.
Learn More Organica Colon Cleansing and Anti-Parasite Digestive Support
People are now asking for Over-the-Counter Organic Medicine that is both USDA Certified Organic and an FDA Registered homeopathic drug.
Learn more about: the booming Organic Medicine market.
USDA-certified organic and raw hand-peeled cacao beans from Ecuadorian Arriba are great source of antioxidants, minerals, and fiber.
Learn more about Superfoods Raw Peeled Cacao Beans.
Raw Organic foods that include Live-enzyme Superfoods from the purest unprocessed foods that have all their precious nutrients intact.
More on raw foods.
Can managing Facebook get easiers? I guess it can.
Facebook Management Tools.
Everybody needs someone to help them with small odd jobs, from computer fixing to help with a wide range of things.
Hire someone to help you with small tasks on a easy-to-manage contract basis.
Lose weight, reduce stress and transform your life through plant-based nutrition... FREE!
Join Thrive!
Organic and fair clothing, sustainability, environmental and social responsibility.
Check out the latest fashion!
.
Eco-conscious furnishings and accessories.
What are sustainable flatware?
Organic premium and natural products for pets, manufactured in-house.
You never heard of holistic, natural dog and cat food! Now you have.
Herbs, Foods, Bath, & Complete Aromatherapy Oils.
Ahhhh, now that's relaaaaaxation.
House of Nutrition brings people a wide range of products and supplies for their nutritional well-being.
See products list.
Eco-friendly and bio-degradable Mattresses?
Here's what you could get!
Mighty Leaf crafts the most flavorful and delicious artisan blended teas.
award-winning tea pouches ... Tea Lovers, Savor
Touch of Europe brought to US and Canada!
Browsed and bewildered!
Herbal Teas, Herbal Tincutres, and Organic Wellness Oils.
Nature's Inventory
Organic Bouquet - Eco-Friendly Flowers & Gourmet Gifts!
See what's popular today!
Flower Delivery for someone special?
Send love of flowers!
Find your way through life with a little help.
Where is your life's compass?