The US bans some of the agricultural products from Japan due to radiation contamination from Fukushima and does FDA undermine the potential dangers of low radiation?
Recently, South Korea's top newspaper, The Dong-A-Ilbo reported that "Concerns over Japan's radioactive contamination and its seafood is spreading to most countries in the Pacific basin". South Korea has recently banned all the fishery imports from Japan and since 2011 other countries China have banned the import of vegetables, seafood and dairy products from at least 5 Japanese prefectures, including Fukushima.
Due to the health concerns of the public, FDA has increased surveillance of products from Japan and recently, United States has banned agricultural and fishery imports from 14 prefectures in Japan.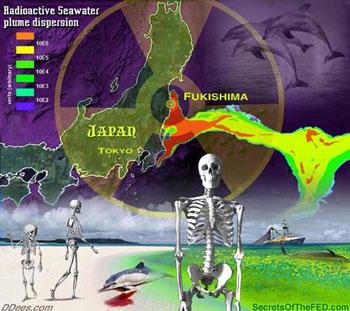 Although the Japanese government claim that the situation is 'under control', many other countries and researchers believe that Fukushima nuclear plant is at the state of emergency at the moment. Find out how Fukushima nuclear plant is now leaking between 150-250 tons of radioactive water into the Pacific Ocean daily.
According to FDA's website, FDA is processing all food products from Japan in four categories:
Category 1: Products that the Japanese government has restricted for export or sale. (These products are prevented from entry to US):
Prefectures, and dace, ayu, and cherry salmon (yamame) from Fukushima.
Spinach, lettuce, celery, cress, endive, escarole, chard, collards, and other head-type leafy vegetables from the Fukushima Prefecture.
Turnips and other non-head type leafy vegetables, as well as broccoli, cauliflower, flower head brassicas (i.e. broccoli and cauliflower), mushrooms bamboo shoots, and Ostrich fern from the Fukushima Prefecture.
Sand lance from Fukushima Prefecture
Milk from the Fukushima and Ibaraki Prefectures.
Spinach and kakina from the Fukushima and Ibaraki Prefectures.
Category 2: Products from Fukushima, Ibaraki, and Tochigi Prefectures that Japanese government has not currently banned:
Under Import Alert 99-33, the authorities may detain dairy and fresh produce Fukushima, Ibaraki, and Tochigi Prefectures when they arrive in the U.S.
Category 3: Foods and feed products that are not covered by FDA's Import Alert coming from these three Japanese Prefectures:  
Fukushima
Ibaraki
Tochigi
Category 4: All the other FDA-regulated food products from Japan that are not listed in the Import Alert and do not belong to other categories
Authorities will review these products using standard procedures, and as part of this may monitor and sample products as resources permit.
What about fish that swim from the reactor site into U.S. fishing waters?
According to FDA's website, "Japan to U.S. waters would take several days under the best of circumstances. Vessels fishing in waters far off U.S. shores must also travel several days to return to port. It is unlikely that a fish exposed to significant levels of radionuclides near the reactor could travel to U.S. waters and be caught and harvested. If this improbable trip did occur, the level of short-lived radionuclides such as I-131 would drop significantly through natural radioactive decay during the time needed to make the journey. At this time, Japanese tests have detected longer-lived radionuclides such as Cs-137 in only a few samples and at levels below FDA DILs. FDA's testing of fish imported from Japan has not detected the presence of Cs-137. In the unlikely scenario that pollutants could affect fish that have traveled to the U.S., FDA will work with the National Oceanic and Atmospheric Administration (NOAA) to test seafood caught in those areas. Together FDA and NOAA will also inspect facilities that process and sell seafood from those areas."
However, according to the Swedish government who carefully monitored radioactivity from plant and animal foods, most animal products including meat, dairy and fish (especially cod, tuna and halibut that contain large amount of mercury) have higher radioactive substances compared to fruits, grains and vegetables. In fact, Tuna has the highest contamination since it travels around the entire Pacific Ocean, so it's potentially more contaminated (with toxins, heavy metals and radiation) than wild salmon. On the other hand, wild salmon is very territorial and does not travel as much as tuna. It's also safer to eat salmon from rivers of Canada like Copper River salmon or Coho salmon.
Is FDA undermining the potential dangers of low radiation by considering that radioactive fish is safe?
According to a report published in the International Journal of Health, large amounts of  airborne radioactivity has been spread throughout Japan and other nations and there could have been more than 14,000 deaths in US related to Fukushima.
The report states that "Some samples of radioactivity in precipitation, air, water, and milk, taken by the U.S. government, showed levels hundreds of times above normal; however, the small number of samples prohibits any credible analysis of temporal trends and spatial comparisons. U.S. health officials report weekly deaths by age in 122 cities, about 25 to 35 percent of the national total. Deaths rose 4.46 percent from 2010 to 2011 in the 14 weeks after the arrival of Japanese fallout, compared with a 2.34 percent increase in the prior 14 weeks. The number of infant deaths after Fukushima rose 1.80 percent, compared with a previous 8.37 percent decrease. Projecting these figures for the entire United States yields 13,983 total deaths and 822 infant deaths in excess of the expected".
The report also shows that although the radiation exposure in US have been far below those in Japan, the exposure to low radiation (that was previously assumed to be harmless) can cause solid tumors and leukemia, damage to the central nervous system and elevated disease rates in children born to women who underwent pelvic X-rays during pregnancy.
According to an article published in the Institute of Science in Society, Dr. Mae-Wan Ho, states that "low dose radiation is all the more dangerous because it does not kill the targeted cell, but allows its influence to spread widely to adjacent cells, thus multiplying the radiation effect (about 100 fold)."
Other studies including the one published in the National Academy of Sciences shows that even low exposure to radiation can increase the risk of many health problems and there is not threshold for radiation that can be considered safe or harmless.
Studies show that chronic fatigue syndrome, dizziness, back pain, early aging syndrome, muscle and joint pains, fever, cervical lymph node sensitivity and weight loss are some of other symptoms of exposure to low radiation.
Resources:
http://www.dfilis.blogspot.com/2013/09/us-bans-products-from-japan-due-to.html
http://www.reuters.com/article/2013/09/06/us-fishery-korea-japan-idUSBRE98501220130906