Soy Allergies
In this section of Seattle Organic Restaurants, I'm going to talk about soy allergies and its symptoms. Soy allergies are very common in US. Soy is produced from soy beans and there are 15 different proteins in soy beans that people are allergic to.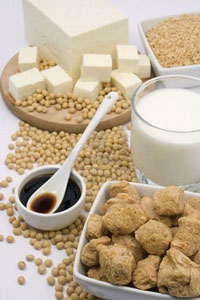 Soy allergies are very common in infants and babies. Soy can be found in products that are processed or manufactured, also in fast food restaurants such as McDonalds or Wendy's. Most processed foods have soy as an ingredient in their products. It's very challenging to avoid soy in our diet since soy is largely used in most processed foods, cereals or salad dressings. Usually people who are allergic to soy are also allergic to peanuts, peas, lentils and beans.
It is necessary for people with soy allergies to avoid any products that have soy listed in them as an ingredient such as soy beans, soy sauce, soy protein, soy nut butter, edamame, miso, canned tuna, natto, soya, soy (soy fiber, soy grits, soy milk, soy nuts, soy sprouts, and soy flour), tofu and tempeh. However canned chicken broth, vegetable broth, starch, natural or artificial flavors, hydrolyzed vegetable protein (HVP) and bouillon cubes such as beef, chicken and vegetables may also contain soy protein.
Since soy allergies are in the top 8 most common allergies in US, the law requires manufactures to show soy as an ingredient in their products. People can have different allergic reaction to soy from mild reaction to anaphylaxis. The symptoms of soy allergy include swelling, nasal congestion, shortness of breath or asthma, itching, anaphylaxis, low blood pressure, gastrointestinal problems including diarrhea, fever, fatigue, weakness and nausea and hives.
The best way to stop soy allergies is to avoid products that have soy in them as an ingredient. Manufactures sometimes change the labels of their products so you should read the products' labels carefully.