Hexane: Increases profitability for corporations while reducing your immune system
In the food industry hexane is a solvent used to extract edible oils from seeds and vegetables, and in the commercial industries, it is used as a cleaning agent.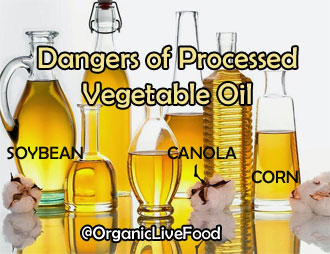 Hexane has been identified by the FDA as a potent neurotoxin and a carcinogen, as well as one of the hazardous and dangerous air pollutants. According to EPA, exposure to hexane by either ingesting it or in some other way can lead to occurrence of various symptoms:  acute (short-term) inhalation exposure of humans to high levels of hexane causes central nervous system (CNS) effects, including dizziness, giddiness, slight nausea, and headache. Chronic (long-term) exposure to hexane in air is associated with polyneuropathy in humans, with numbness in the extremities, muscular weakness, blurred vision, headache, and fatigue observed. 
In animal studies, neurotoxic effects have also been exhibited in rats. Many studies are currently under way to determine carcinogenic effects of hexane on humans.
High duration of exposure to even moderate quantity of hexane can produce some or many of the following symptoms:  headache, dizziness, skin irritation, dry skin, pain in skin, irritation, pain and redness in eyes, abdominal pain, nausea, vomiting, drowsiness, dullness, weakness, upper airway irritation, breathing difficulty, muscle cramps, tinnitus, muscle wasting and symptoms of peripheral neuropathy in cases of chronic exposure.
When purchasing olive oil, or grape seed oil, or coconut oil, make sure that the product label includes: Hexane-Free to make sure that you and your family are not exposed to this solvent from your cooking oil.
You may also be interested to read this article: Why most processed vegetable oils are toxic. Benefits of Grapeseed oil and how even grapeseed oil could contain cancer-causing chemicals like Hexane depending on manufacturer: http://seattleorganicrestaurants.com/vegan-whole-food/toxicity-of-processed-vegetable-oils-grapeseed-oil-could-contain-cancer-causing-chemicals-hexane.php