America wants GMOs Labeled
The two year French study published on September 19 showed that rates who were fed Monsanto's GMO corn and drank water with levels of Monsanto's top selling Roundup (equivalent to level of Roundup found in tap water) died suffering from horrifying tumors and organ damages.
The study performed by the Gilles-Eric Seralini, a French biologist at Caen University on 200 rats-100 females and 100 males showed that 70% of female rates and 50% of male died from large tumors and severe damage to kidney and liver compared to 20% females and 30% males that didn't eat GMO foods in controlled groups. The study has its own supporters and critics. However some experts who are skeptical of the French studies have financial ties to biotech companies. To clarify any doubts and skepticism France has just launched a major investigation about GMO products.
France has been in the forefront of battle with
Monsanto
's products. France was actually one of the first countries that didn't allow use of
hormones
and
rBGH in livestock
. During George Bush's presidency France refused to buy cows from US and the US retaliated back by increasing steel import tariffs and called France anti-American. However just few days ago despite all the recent political pressures France did put a ban on Monsanto's
GMO maize
.
America wants GMOs Labeled
Many independent experts are agreeing that GMO labeling debate is over and GMOs must be labeled. However, among politicians and lobbyists the debate is far from over and GMO labeling is still far from reality in US while 50 countries worldwide have required GMO labeling and another 27 countries have banned GMOs.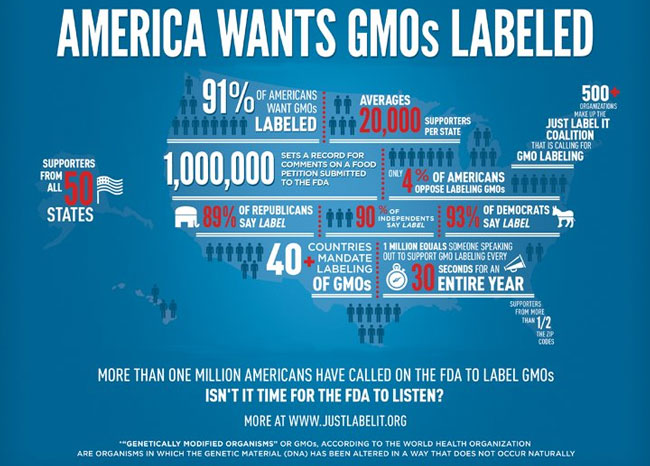 Although 80%+ of democrats, conservatives, republicans and independents all agree that GMOs must be labeled, Monsanto is still aggressively perusing its anti-labeling policies. Monsanto's total contribution against Proposition 37 Calif now stands at $7.1 million dollars. The question is that why Monsanto ignores the fact that America wants GMOs labeled? Recently Monsanto just contributed another $5.5 million against GMO labeling. What is all this paranoia about if there is nothing to hide about GMO safety?