Lawsuit: Grocery Manufacturers Association (GMA) has been laundering donation money to 'No on 522' on behalf of its big corporate members. Sen. Elizabeth Warren joins GMO labeling debate and Monsanto protection Act might end this month
According to a lawsuit filed in the Thurston County Superior Court by a group known as 'Moms for Labeling', the Grocery Manufacturers Association (GMA) has been laundering donation money on behalf of giant retail and food corporations who do not want to suffer bad publicity for opposing Washington GMO initiative labeling.
According to storyleak.com, the lawsuit by 'Moms for Labeling' states that "donations to the (anti) Initiative 522 campaign are being laundered through the Grocery Manufacturers Association, the world's largest association of food, beverage and consumer products companies. The GMA has made a special appeal to its members in the form of a voluntary special assessment to fund the No on 522 campaign."
So far, "No on 522" has been able to raise $11.6 million against "Yes on I-522" that could only raise $4.3 million. Last year the giant agribusinesses spent $46 million against Prop.37 in California that could only raise 7.3 million dollars from small donations of $10 and $20 from students, single mothers, and family protection and health groups.
Besides, giant Monsanto and DuPont, some of the other companies who spent a lot of money on campaigns against California Proposition No.37 were PepsiCo (donated $2.14 million), Coca-Cola (donated $1.455 million), Nestle (donated $1.315 million), Kraft (donated $1.64 million) and Heinz and Campbell Soup (donated $1 million).
The 'Moms for Labeling' group believe that the companies who are donating money to defeat WA initiative labeling through GMA are trying to avoid public criticism by hiding their identity.
According to blog.seattlepi.com, the Moms for Labeling group believe that "The No on 522 campaign illegally conceals the identity of the campaign's donors and donations to the (anti) Initiative 522 campaign that are being laundered through the Grocery Manufacturers Association."
Sen. Elizabeth Warren joins GMO labeling debate and the role of Consumer Financial Protection Bureau:

While giant agribusinesses are spending millions of dollars to defeat 'Yes on 522' in Washington and many members of Congress have sold their souls to the deep pockets of biotech, few members of Congress are fighting for customer protection and GMO initiative labeling. Elizabeth Warren is one of these senators with a long history of fighting for consumer protection and ending economic exploitation.
It is truly refreshing to see women like Elizabeth Warren forcing their way into men's seats and fighting for consumer protection laws such as banking regulations. One of the achievements of Elizabeth Warren happens to be the Consumer Financial Protection Bureau (CFPB) which has been fighting towards the right of consumers and against the fraud of banksters.
However, the majority of Republicans and big businesses hate CFPB so much that they fought for the last two years to block the nomination of Richard Cordray as director of the Consumer Financial Protection Bureau (CFPB), simply because they disagree with the Bureau itself.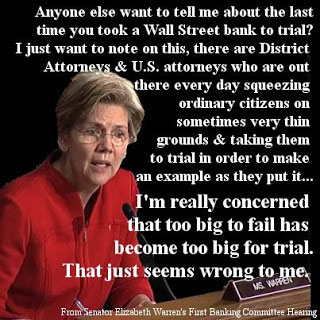 According to the Harvard law professor, Elizabeth Warren "It is impossible to buy a toaster that has a one-in-five chance of bursting into flames and burning down your house. But it is possible to refinance an existing home with a mortgage that has the same one-in-five chance of putting the family out on the street".
Elizabeth Warren's ideas later on become Consumer Financial Protection Bureau to protect customers against banks and big financial institute. According to Bloomberg just last year, JPMorgan who had billed customers unfairly for 'add-on-products' that they did not receive, had to pay $309 million settlement money [http://www.bloomberg.com/news/2013-09-19/jpmorgan-to-pay-389-million-over-regulators-card-add-on-claims.html].
That might explain why banks and the republican party hate CFPB so much that are trying to starve CFPB's funds. Although, the Bureau already has a dedicated funding, recently the House majority has asked to "Transit CFPB funding into Appropriations process" which that would put the House Republicans in control of the Bureau fund, so they can kill the Bureau anytime they want. Therefore, banks can go back to charging fraudulent fees without the fear of ever getting cut or being responsible. As Chris Hayes in his 60 minute program says "The GOP demand is simply this: let the banks screw you mercilessly with no protection or we will blow up the world economy which will also screw you over". [Source: http://video.msnbc.msn.com/all-in-/53118586#53118586]   
Back to GMO labeling issue, Senator Elizabeth Warren is now calling for FDA to end the ridiculous battle of biotech companies against GMO labeling movement and simply label foods that contain GMO ingredients.
According to politico.com, "Warren send her request for national GMO labeling guidance in the form of a one-page letter, also signed by Sen. Mark Udall (D-Colo.), sent to FDA Commissioner Margaret Hamburg on Aug. 22. The letter calls for the FDA to finalize a draft document it issued in January 2001 and to "implement a regulatory framework for the standardization of labeling policies for GMO and non-GMO foods."
However, some consumer advocates including Colin O'Neil who is the director of government affairs for the Center for Food Safety aren't entirely pleased with Warren's position.
According to Politico O'Neil says that "Warren is really the darling of consumer transparency and consumer protection, and I think the food movement would be disappointed if she didn't support GE labeling. However, from her few statements on the issue thus far, I don't know what her intent is".  
The political director of the Organic Consumers Association, Baden-Meyer (another group advocating for GMO labeling) who is also critical of Warren's position also added that "I don't like the direction Warren and Udall are going. It's very concerning to me. … The letter is ambiguous as to what it is asking the FDA to do."
Although, Monsanto Protection Act was extended by the House majority last week, the Senate substitute unveiled that they will explicitly go back and make sure that Monsanto-backed provision will end this month:
Monsanto biotech rider approved by the House was extended last week without any comments, however, Sen. Mark Pryor (D-Ark.), confirmed the change to POLITICO by saying that "That provision will be soon gone".
Although the march of more than 2 million people worldwide against Monsanto on May 25th didn't get any coverage by the corporate media, thanks to the social media, more and more people are becoming aware that the threats of GMO foods are serious.    
The Center for the Food Safety welcomed the decision to end Monsanto Protection Act, describing it as "a major victory for the food movement" and "sea change in a political climate that all too often allows corporate earmarks to slide through must-pass legislation."
"We have all known this rider's days were numbered," O'Neil told POLITICO. "But given the recent GMO contamination episodes of wheat and alfalfa in Oregon and Washington it is clear that our nation's safeguards, in particular those of the federal courts, should not be under attack from policy riders like this." Please, Take Action Now! Petitions to Sign and Share to end Monsanto Protection Act!
Sources:
http://blog.seattlepi.com/seattlepolitics/2013/09/17/grocery-manufacturers-laundered-donations-suit/
http://www.storyleak.com/wash-state-lawsuit-anti-gmo-labeling-group-laundering-donation-money/#ixzz2g1WEtdGU
http://www.politico.com/story/2013/09/elizabeth-warren-joins-gmo-labeling-fray-96928.html
http://www.politico.com/story/2013/09/senate-continuing-resolution-monsanto-rider-97301.html