Wheat Allergies
Seattle Organic Restaurants provides you with adequate information about all kinds of food allergies such as wheat allergies. Wheat allergy is a very common food allergy that exists mostly in children but it can also develop in adults. Usually children do not develop allergies after the age of 3 to 5.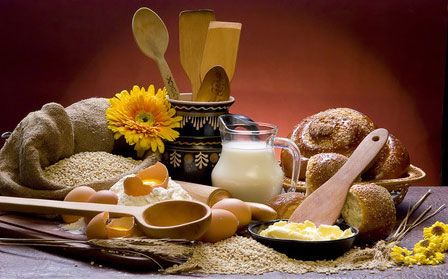 There are many foods in super market that contain wheat even the ones that are not easy to guess. Cakes, breads, pasta, noodles or spaghetti, beer, soy sauce, ketch up, crackers, couscous, substances in coffee, dairy products, dumplings, starch, chocolate drinks, malted milk, vegetable protein, genetically modified foods, soy sauce and cereals have wheat in them. Your health care professional usually diagnoses wheat allergies by asking your food diary, skin or blood test. Unfortunately once you've developed wheat allergy there are no treatments except avoiding wheat. Taking antihistamines and epinephrine might help but talk to your health care professional before taking any medications. It's necessary to seek professional health care if a person allergic to wheat accidentally eats wheat. Usually the immune system of people with wheat allergies cannot respond to an existing protein in wheat. Our immune system is designed to protect us from foreigners such as viruses, bacteria or toxic substances. When our immune system gets confused and attacks a good or normal substance it performs as it would against bacteria or virus.
When body immune system feels attacked by a protein in wheat it will defend itself by building antibody against that substance. When the body develops allergen (anti body for allergic substance that in case of wheat allergy is wheat protein) the immune system becomes sensitive to it and it protects the body against that substance as the substance is a harmful bacteria. People might also develop allergic reaction by wheat consumption and exercise within few hours of wheat protein consumption. The change in our bodies when we exercise can trigger the immune response. This condition can lead to anaphylaxis that is an emergency condition and a matter of life and death. Taking aspirins or other inflammatory drugs with wheat consumption a few hours before exercising can develop exercise related allergies to wheat.
Some people who work in bakeries can develop allergies by breathing wheat flour and usually the symptoms are short of breath; this allergy is known as baker's asthma. Some people might also develop food sensitivity rather than allergies known as gluten sensitivity. In some cases the person's immune system might react to gluten known as celiac disease. Some people can have both celiac disease and wheat allergies. There are few risk factors that can contribute in developing wheat allergies such a family history or age.
For example a health problem like obesity can develop diabetes type 2. Having a parent or family member with wheat allergies, hay fever or asthma can also develop wheat allergies. The other risk factor is age. Infants and babies are more likely to develop allergic reaction to wheat when their immune system is not mature enough so when they grow up as adults they are more likely to be allergic to wheat.
Wheat allergy has different symptoms such as respiratory problems, nasal congestion, asthma, upset stomach, diarrhea, atopic dermatitis, swelling and irritation of throat or mouth, vomiting, itchy or watery eyes, lack of concentration, hives or itchy rashes and nausea. A life threatening allergic response is anaphylaxis. The anaphylaxis symptoms are chest pain and tightness, swallowing difficulties, weak pulse, serious drop in blood pressure (hypotension), severe respiratory problems or pale and blue skin. In case of anaphylaxis, the person needs urgent medical attention. Usually the body shows allergy to at least one of the protein in wheat such as globulin, albumin, gliadin and glutenin. If you or loved ones are allergic to wheat, check out the best restaurants in Seattle and east side that serve dishes gluten wheat free.
National community initiative to create the first ever nutritional system to synergize with the practice and living of yoga.
Certified organic coconut water
. Collaborative platform for people inspired by yoga!
Did you know parasites out rank cancer as deadliest killer Worldwide? Autointoxication is potentially a deadly condition that occurs when colon health is ignored.
Learn More Organica Colon Cleansing and Anti-Parasite Digestive Support
People are now asking for Over-the-Counter Organic Medicine that is both USDA Certified Organic and an FDA Registered homeopathic drug.
Learn more about: the booming Organic Medicine market.
USDA-certified organic and raw hand-peeled cacao beans from Ecuadorian Arriba are great source of antioxidants, minerals, and fiber.
Learn more about Superfoods Raw Peeled Cacao Beans.
Raw Organic foods that include Live-enzyme Superfoods from the purest unprocessed foods that have all their precious nutrients intact.
More on raw foods.
Can managing Facebook get easiers? I guess it can.
Facebook Management Tools.
Everybody needs someone to help them with small odd jobs, from computer fixing to help with a wide range of things.
Hire someone to help you with small tasks on a easy-to-manage contract basis.
Lose weight, reduce stress and transform your life through plant-based nutrition... FREE!
Join Thrive!
Organic and fair clothing, sustainability, environmental and social responsibility.
Check out the latest fashion!
.
Eco-conscious furnishings and accessories.
What are sustainable flatware?
Organic premium and natural products for pets, manufactured in-house.
You never heard of holistic, natural dog and cat food! Now you have.
Herbs, Foods, Bath, & Complete Aromatherapy Oils.
Ahhhh, now that's relaaaaaxation.
House of Nutrition brings people a wide range of products and supplies for their nutritional well-being.
See products list.
Eco-friendly and bio-degradable Mattresses?
Here's what you could get!
Mighty Leaf crafts the most flavorful and delicious artisan blended teas.
award-winning tea pouches ... Tea Lovers, Savor
Touch of Europe brought to US and Canada!
Browsed and bewildered!
Herbal Teas, Herbal Tincutres, and Organic Wellness Oils.
Nature's Inventory
Organic Bouquet - Eco-Friendly Flowers & Gourmet Gifts!
See what's popular today!
Flower Delivery for someone special?
Send love of flowers!
Find your way through life with a little help.
Where is your life's compass?