How the Mainstream media ignores millions of people who marched against Monsanto and list of politicians who are on Monsanto's payroll

On May 25th, two million people in more than 50 different countries marched against the giant biotech company Monsanto. The founder and organizer of "March against Monsanto" Tami Canal created a facebook page on February 28th encouraging everyone to join the march against Monsanto.
According to The Guardian, after Tami Canal created the facebook page, other bloggers and activists also got together to get their message across the globe against Monsanto and genetically modified organisms and the social media was credited for being a vehicle for furthering opportunities for activism.
Despite the large size of the gathering, the protestors from different walks of life marched peacefully against the giant biotech Monsanto and GMO. The protestors in more than 436 cities wanted to draw attention to GMO issues and the dangers posed by genetically modified foods and seeds to our health and food supply.
In the last few years, many independent scientific community members, experts and health activists have warned the public about the growing issues and complications about genetically modified organisms.
However not only that the giant biotech and agribusinesses have ignored the public demands, they have even created fake documents on how GMOs are safe and have attacked scientific community members and health activists for being outspoken or even questioning the issues related with genetically modified foods.
However, as usual, the mainstream media fails to do its job to even question the safety of GMOs while other independent news resources and social media have raised awareness by focusing on the issues of GMOs in our food supply. 
And once again the mainstream media fails miserably to report millions of people who marched peacefully against Monsanto and demanded their basic right to know what's inside their food. They instead covered up their headlines with cliché stories and didn't even mention millions against Monsanto and GMOs since corporations like DuPont and Monsanto pay for their advertising.
But anyone who has ever worked in corporate America knows that most people in workplaces are afraid of losing their jobs. The same fear also exists in every newsroom in America; fear of losing your job and being labeled as unpatriotic, un-American or even the enemy of the state.
Here are the words of Steven Colbert in 2006 at the White House Correspondent Dinner about journalists who preferred to stay silent about events that matter including millions of people who marched against Monsanto:
"But, listen, let's review the rules. Here's how it works. The President makes decisions. He's the decider. The press secretary announces those decisions, and you people of the press type those decisions down. Make, announce, type. Just put 'em through a spell check and go home. Get to know your family again. Make love to your wife. Write that novel you got kicking around in your head. You know, the one about the intrepid Washington reporter with the courage to stand up to the administration? You know, fiction! "
The 71 sellout House of representative who betrayed people and sold their soul to corporate tyranny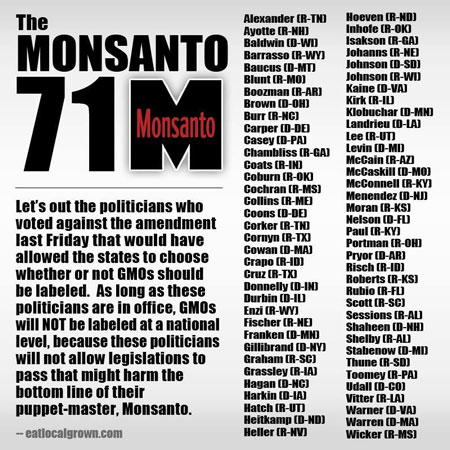 Most people know that the House of Representative is a true representative of Monsanto, DuPont and their buddies and not the America public. That may sound cynical until one remembers that the House of Representatives recently had an opportunity to vote on a farm bill that will mandate GMO labeling laws. Instead, all 71 US senators (from both Republican and Democratic parties) voted against GMO labeling bill, the night before the good citizens of the world were getting ready to march against Monsanto.
These so called elected officials apparently don't believe that the states have the right to mandate GMO labeling. Also, according to nationofchange.org, "over $260,000 was openly pumped into the House, and $122,000 was pumped into the Senate from Monsanto. And again, this is openly. I'm speculating, but I would imagine the real number to easily be in the millions. Can you imagine how much they must pay these politicians to shoot down GMO labeling bills that 90 plus percent of the entire country wants?"
According to nationofchange.org, here are the lists of politicians paid by Monsanto to say no to GMO labeling bill: (http://www.nationofchange.org/extensive-list-politicians-paid-monsanto-1369754283)
Looking at these figures and these are only the most visible reported bribes, oh, I meant donations...
Total paid by Monsanto to Democrats: $72,000 /Total paid by Monsanto to Republicans: $190,500
Barrow, John (D-GA) $2,500

Bishop, Sanford (D-GA) $5,000

Boehner, John (R-OH) $10,000

Braley, Bruce (D-IA) $5,000

Camp, Dave (R-MI) $5,000

Cantor, Eric (R-VA) $10,000

Clay, William L Jr (D-MO)$10,000

Cleaver, Emanuel (D-MO) $5,000

Conaway, Mike (R-TX) $2,000

Courtney, Joe (D-CT) $4,500

Crawford, Rick (R-AR) $2,500

Fincher, Steve (R-TN) $8,000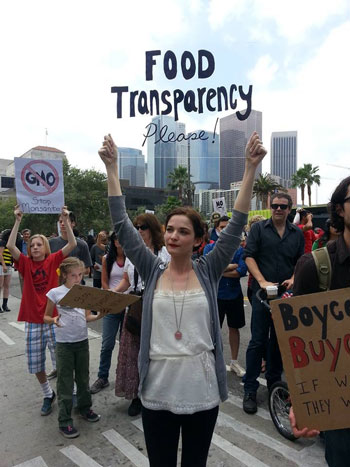 Gardner, Cory (R-CO) $7,500

Goodlatte, Bob (R-VA) $4,500

Graves, Sam (R-MO) $5,000

Griffin, Tim (R-AR) $1,000

Guthrie, Brett (R-KY) $1,000

Hanabusa, Colleen (D-HI)$5,000

Hannemann, Mufi (D-HI) $1,000

Hartzler, Vicky (R-MO) $3,000

Holden, Tim (D-PA) $1,000

Huelskamp, Tim (R-KS) $2,500

Hultgren, Randy (R-IL) $2,500

Jenkins, Lynn (R-KS) $2,500


Johnson, Timothy (R-IL) $3,000

King, Steven A (R-IA) $2,500

Kingston, Jack (R-GA) $7,000

Kinzinger, Adam (R-IL) $3,500

Kissell, Larry (D-NC) $5,000

Labrador, Raul (R-ID) $2,000

LaMalfa, Doug (R-CA) $1,000

Landry, Jeff (R-LA) $1,000

Latham, Tom (R-IA) $10,000

Loebsack, David (D-IA) $5,000

Long, Billy (R-MO) $2,500

Lucas, Frank D (R-OK) $10,000

Luetkemeyer, Blaine (R-MO)$5,000


Lungren, Dan (R-CA) $1,000

McIntyre, Mike (D-NC) $1,000

Neugebauer, Randy (R-TX)$1,000

Noem, Kristi (R-SD) $1,000

Nunes, Devin (R-CA) $3,500

Owens, Bill (D-NY) $2,000

Peterson, Collin (D-MN) $10,000

Rogers, Hal (R-KY) $7,500

Rokita, Todd (R-IN) $5,000

Roskam, Peter (R-IL) $1,000

Schilling, Bobby (R-IL) $3,000

Schock, Aaron (R-IL) $5,000

Shimkus, John M (R-IL) $5,000

Simpson, Mike (R-ID) $10,000

Smith, Adrian (R-NE) $5,000

Stutzman, Marlin (R-IN) $5,000

Thompson, Bennie G (D-MS)$10,000

Thompson, Glenn (R-PA) $1,000

Upton, Fred (R-MI) $5,000

Valadao, David (R-CA) $2,500

Wagner, Ann L (R-MO) $10,000

Walden, Greg (R-OR) $1,000

Walorski, Jackie (R-IN) $2,500

Womack, Steve (R-AR) $1,000
Senate; Total paid by Monsanto to Democrats: $37,500Total paid by Monsanto to Republicans: $85,000



Akin, Todd (R-MO) $3,500

Baucus, Max (D-MT) $1,000

Berg, Rick (R-ND) $10,000

Blunt, Roy (R-MO) $10,000

Boozman, John (R-AR) $5,000

Casey, Bob (D-PA) $2,500

Chambliss, Saxby (R-GA) $5,000

Fischer, Deb (R-NE) $5,000

Gillibrand, Kirsten (D-NY)$1,000

Grassley, Chuck (R-IA) $2,000

Hirono, Mazie K (D-HI) $1,000

Johanns, Mike (R-NE) $1,000


Klobuchar, Amy (D-MN) $5,000

Landrieu, Mary L (D-LA) $1,000

McCaskill, Claire (D-MO)$5,000

McConnell, Mitch (R-KY) $10,000

Moran, Jerry (R-KS) $2,500

Nelson, Ben (D-NE) $13,000

Rehberg, Denny (R-MT) $2,000

Risch, James E (R-ID) $3,500

Roberts, Pat (R-KS) $9,000

Thompson, Tommy G (R-WI)$5,000

Wicker, Roger (R-MS) $1,000

Wilson, Heather A (R-NM)$2,500

Stabenow, Debbie (D-MI) $8,000 [this lady is known as one of the craziest Senators that thinks that Labeling GMOs runs counter to science and the public interest in healthy foods and GMO labeling would interfere with the FDA's science-based process to determine what food labeling is necessary for consumers. Since Debbie is such a smart and delightful senator, we decided to give Debbie and the rest of senators who voted againt GMO labeling the trophy of head up his A$$].
P.S. The little ones have more courage to stand in the rain and demand GMO labeling while the so called useless politicians are busy selling their souls to the devil.
Many activists and scientific community members are disgusted by the passive mentality of Washington regarding genetically modified organisms
During the 2008 Presidential election, Obama promised to label GMOs and lead America towards a healthier and more nutritious food system. However the policies of the Obama administration is far away from the promises he made.
Recently Obama passed Monsanto's Protection Act which in the last minutes was quickly added as a biotech rider inside the Agricultural Appropriations Bill for 2013 by the US House of Representative.
The biotech rider also known as "Farmer Assurance Prevision" will give Monsanto the power to even more recklessly plant new GMO crops regardless of any liability towards the Federal courts or the consumer's health.