Is the war against GMO over?
These last few weeks, the big 6 pesticide companies including Monsanto and their buddies, DuPont, Bayer, Dow, BASF and Syngenta have been celebrating their well bought victory for $46 million dollars on media ads against Prop. 37 in California so that people don't acquire the right to know if there is GMO ingredients in their food.
Earlier this month, the spokeswoman for Food Marketing Institute, Jennifer Hatcher mentioned "it felt good to go directly to voters and defeat Proposition 37 and she also hoped that this is the end to GMO labeling movement so she doesn't have to deal with this ever again.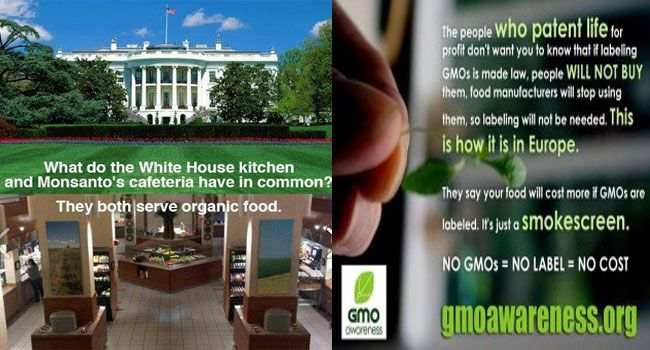 However, Ms. Hatcher misses the point that this is such as irony that the big 6 chemical companies are willing to waste 46 million dollars to kill Prop.37 but find labeling GMOs expensive. The supporters of Prop.37 could only raise 7.3 million dollars through small donations of $10 and $20 from students, single mothers, and family protection and health groups.
Defeating Prop.37 by spending $46 million might have been a pleasant experience for the big pesticide companies who are only interested in building wealth and flaunting it on their expensive yachts and bragging about it at their exclusive private sports clubs.
However by spending millions of dollars to defeat people's right to choose they have awaken the giant - the American public. Nearly 30 other states have started campaigning to label GMO.  How much more money will these companies spend against the will of 93% of Americans who want the right to choose what to eat and want to know what's in their food.
The biotech industry is falling on its weight.

The organic industry has been booming in the last decade and the sales of organic products have increased from $1 billion in 1990 to $26.7 billion in 2010. At the same time the rate of chronic diseases have gone up drastically when many independent studies and research  have linked GMOs, high level of pesticides, chemicals, toxic additives and harmful ingredients in food with increased allergies, inflammatory bowel disease, diabetes, obesity, gastrointestinal problems, Crohn's disease, autism, intestinal damage, cancer and many other health problems.
Many Americans are becoming aware that the drastic changes in their diet in the last 30 years have been making them really sick.
They are also very well aware that multibillion dollar companies represent a very few corporate elites who stand for economic exploitation, ultimate market domination, abolishing any regulations to protect consumers and increase in environmental pollutions and wastes at the expense of our health and wellbeing.
Now they are trying to keep GMOs secret in our food supply and demolish the wholesomeness of good nutritional organic foods by creating equivalency between organic and GMO foods. But they underestimate the power of people. The great organic movement is growing larger and sooner or later Monsanto and their buddies will realize that if they put off one fire there are 30 other fires that they have to deal with.
National community initiative to create the first ever nutritional system to synergize with the practice and living of yoga.
Certified organic coconut water
. Collaborative platform for people inspired by yoga!
Did you know parasites out rank cancer as deadliest killer Worldwide? Autointoxication is potentially a deadly condition that occurs when colon health is ignored.
Learn More Organica Colon Cleansing and Anti-Parasite Digestive Support
People are now asking for Over-the-Counter Organic Medicine that is both USDA Certified Organic and an FDA Registered homeopathic drug.
Learn more about: the booming Organic Medicine market.
USDA-certified organic and raw hand-peeled cacao beans from Ecuadorian Arriba are great source of antioxidants, minerals, and fiber.
Learn more about Superfoods Raw Peeled Cacao Beans.
Raw Organic foods that include Live-enzyme Superfoods from the purest unprocessed foods that have all their precious nutrients intact.
More on raw foods.
Can managing Facebook get easiers? I guess it can.
Facebook Management Tools.
Everybody needs someone to help them with small odd jobs, from computer fixing to help with a wide range of things.
Hire someone to help you with small tasks on a easy-to-manage contract basis.
Lose weight, reduce stress and transform your life through plant-based nutrition... FREE!
Join Thrive!
Organic and fair clothing, sustainability, environmental and social responsibility.
Check out the latest fashion!
.
Eco-conscious furnishings and accessories.
What are sustainable flatware?
Organic premium and natural products for pets, manufactured in-house.
You never heard of holistic, natural dog and cat food! Now you have.
Herbs, Foods, Bath, & Complete Aromatherapy Oils.
Ahhhh, now that's relaaaaaxation.
House of Nutrition brings people a wide range of products and supplies for their nutritional well-being.
See products list.
Eco-friendly and bio-degradable Mattresses?
Here's what you could get!
Mighty Leaf crafts the most flavorful and delicious artisan blended teas.
award-winning tea pouches ... Tea Lovers, Savor
Touch of Europe brought to US and Canada!
Browsed and bewildered!
Herbal Teas, Herbal Tincutres, and Organic Wellness Oils.
Nature's Inventory
Organic Bouquet - Eco-Friendly Flowers & Gourmet Gifts!
See what's popular today!
Flower Delivery for someone special?
Send love of flowers!
Find your way through life with a little help.
Where is your life's compass?