The Obesity Impact on Society
In this section of Seattle Organic Restaurants I want to talk about life threatening side effects of obesity. Currently 72 million adults and 12 million youth in the US are obese and 144 million people in the states are obese or overweight. Being overweight and obese causes a wave of chronic diseases with long term serious health consequences.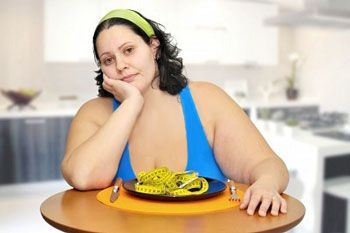 Development of obesity and overweight in early ages has major early impact in accumulation of plaques and clot in the artery. Parents should be aware of the dangers of childhood obesity and should apply early life changing habits for their kids. Early obesity prevention is so important in preventing childhood obesity and unfortunately if the obesity isn't prevented in young ages the consequences can be devastating in the adulthood life of the child. Large waves of chronic diseases are waiting for the new generation of kids with obesity and we should change the early life style habits of our kids. Life style changes include changing eating habits and increasing physical activity. The foods with high level of cholesterol and saturated fat increase the LDL. Reducing the intake of saturated fat in meat, dairy products and backed or fried foods can significantly reduce the level of bad cholesterol.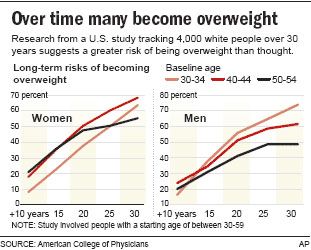 A recent study shows that a group of people who maintained a healthy weight (from the age of 25 to middle age)were less likely to develop cardiovascular disease than those who gained weight from the age of 25 to middle age. Before the scientists thought that the blood pressure goes up by age, now the recent studies prove that the high blood pressure has more to do with weight than age.
As a rule of thumb the blood pressure usually goes up about 0.1 every year after the age of 25, but there was no change in blood pressure of people who maintained a stable body mass. People who also maintained a healthy weight after the age 25 to middle age had stable sugar level and insulin in their blood. However people who gained weight had higher level of triglycerides (bad fat), blood pressure and cholesterol level than those who maintained a healthy weight. Increase in triglycerides directly increases the chances of cardiovascular disease. Helping people to maintain a healthy BMI will surely prevent a wave of chronic diseases that come with obesity such as cancer, cardiovascular disease and diabetes.
The scientific evidences show a solid prove that gaining weight and obesity directly increase the wave of chronic diseases that lead people to heart attacks and strokes. Every year cardiovascular disease causes over 800,000 DEATHS by itself in the US and currently we are spending 500 billion dollars a year on the health consequences of heart problems.
The upcoming cardiovascular disease is a direct result of obesity and being overweight. The health care as we have today isn't affordable and in a decade from now there would be millions of new patients who have heart attack or strokes in an environment that we cannot afford.
National community initiative to create the first ever nutritional system to synergize with the practice and living of yoga.
Certified organic coconut water
. Collaborative platform for people inspired by yoga!
Did you know parasites out rank cancer as deadliest killer Worldwide? Autointoxication is potentially a deadly condition that occurs when colon health is ignored.
Learn More Organica Colon Cleansing and Anti-Parasite Digestive Support
People are now asking for Over-the-Counter Organic Medicine that is both USDA Certified Organic and an FDA Registered homeopathic drug.
Learn more about: the booming Organic Medicine market.
USDA-certified organic and raw hand-peeled cacao beans from Ecuadorian Arriba are great source of antioxidants, minerals, and fiber.
Learn more about Superfoods Raw Peeled Cacao Beans.
Raw Organic foods that include Live-enzyme Superfoods from the purest unprocessed foods that have all their precious nutrients intact.
More on raw foods.
Can managing Facebook get easiers? I guess it can.
Facebook Management Tools.
Everybody needs someone to help them with small odd jobs, from computer fixing to help with a wide range of things.
Hire someone to help you with small tasks on a easy-to-manage contract basis.
Lose weight, reduce stress and transform your life through plant-based nutrition... FREE!
Join Thrive!
Organic and fair clothing, sustainability, environmental and social responsibility.
Check out the latest fashion!
.
Eco-conscious furnishings and accessories.
What are sustainable flatware?
Organic premium and natural products for pets, manufactured in-house.
You never heard of holistic, natural dog and cat food! Now you have.
Herbs, Foods, Bath, & Complete Aromatherapy Oils.
Ahhhh, now that's relaaaaaxation.
House of Nutrition brings people a wide range of products and supplies for their nutritional well-being.
See products list.
Eco-friendly and bio-degradable Mattresses?
Here's what you could get!
Mighty Leaf crafts the most flavorful and delicious artisan blended teas.
award-winning tea pouches ... Tea Lovers, Savor
Touch of Europe brought to US and Canada!
Browsed and bewildered!
Herbal Teas, Herbal Tincutres, and Organic Wellness Oils.
Nature's Inventory
Organic Bouquet - Eco-Friendly Flowers & Gourmet Gifts!
See what's popular today!
Flower Delivery for someone special?
Send love of flowers!
Find your way through life with a little help.
Where is your life's compass?